My husband and I don't do any of the typical Valentine's gifts for each other, and we NEVER go out to dinner. I refuse to put myself and my husband through the stress of finding a sitter, driving through the traffic herd of other dinner goers, and then waiting an hour to be seating even though you made reservations 3 weeks in advanced. Roses? Forget it. WAY too overpriced for just one day trying to cash in on the commercialism of love. Gosh, do I sound a bit bitter? I promise I'm not. I just don't believe in all the fuss.
But then again, we have never seen the need for the fuss. My husband is known for randomly coming home with flowers throughout the year. We like randomness. When I'm out and about and see something I think he'll like I go ahead and pick it up. Because we do these little sporadic displays of appreciation, we just don't find it necessary to get crazy over one day. However, I won't say that we DON'T EVER buy each other anything, and now that we have kids we do like to do little Valentine's gifts for them. Actually, we find we enjoy focusing on our kids more than on ourselves. But still, we want to find enjoyable, yet practical gifts for them and each other and I find that I'm more into homemade gifts. The great part? The GREEN!! By saving green and not buying things that end up in landfills (like empty boxes of chocolates), and making gifts you're BEING Green.
Need help? Here are a few ideas:
Mommy needs a NEW bracelet! Check out this tutorial on making a jersey knit bracelet. It's so easy, I have full confidence all husbands can make this. And? They can include the kids.

Flowers? Pish posh! Grow a plant that will last! An easy one to do is cut the tops off of a few radishes and place them in a shallow dish of water. As a radish is a root vegetable, the cut top will thrive and grow, and the leaves will become a full and beautiful plant. The red of the radish top will give the reminder that it was a Valentine's gift, that will last much longer than the average week of cut roses.
Give Dad a new keychain. Find some #6 plastic, have your kids decorate it, then put it in the oven to make a Shrinky Dink keychain.
Not the crafty type? Then consider supporting a small business owner and buy something reusable. I personally love this Reusable Loose Leaf Tea Infuser by mikknits on Etsy.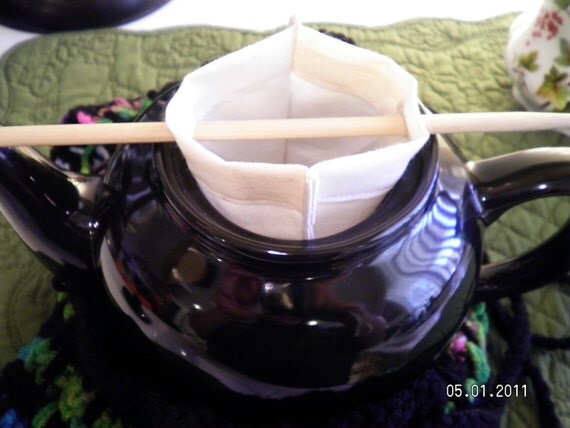 Another favorite item is this reusable Travel Coffee Mug. This makes a great gift for any coffee (or tea) drinker, and can even be turned into a cup for cold drinks when using the sports bottle lid. Got a loved one deployed, or traveling a lot? This Valentine's Gift can be customized with 6, 10, or even up to 16 pictures!! (and, if you click on the logo on the right hand sidebar, all SFM readers get 20% off and a free sports lid included – offer ends Feb. 17th)

And for kids? My favorite is to make heart-shaped crayons by baking your used pieces (or even new ones – crayons are fairly inexpensive) in a heart-shaped silicon mold. Here is an easy Crayon-tastic recipe from PBSKids.org.

Think GREEN this Valentine's Day!